The formation of Post 4667 began in the early part of 1945 when a few young men returning from World War II found they had a lot in common, even though they had not previously known each other. The common ground was that they, like the World War I and Spanish-American veterans, had served their country in a time of war and they had served outside of their country. These comrades started talking to each other on the street, in restaurants, in churches, and anywhere else they happened to run into each other. They decided that they wanted to become an organization of Foreign War Veterans.

The first informal meetings were held in homes of interested and eligible men. Qne of the first things they decided was that they would be better served and could serve better if they united with a national organization, and an organization active in the state of Virginia. The National VFW organization dated back to 1899 and the state organization was authorized in 1920.

There were several reasons these men decided to become a part of the VFW. Probably the main reason was the objective of the VFW which were and still are to insure national security through a strong defense, help speed the rehabilitation of disabled and needy veterans and to assist their dependents and to promote Americanism through education in patriotism and service to the community.

Now was the time to go to work. A comrade by the name of W. M. (Bill) Farmer of Pulaski was the Ninth District Commander of the VFW at this time. He worked very closely with this group as did state officers and members of other active VFW Posts, especially James L. Hawthorne of Bristol. Comrade Farmer presided over these first meetings that were held in the Smyth County Court- house, Marion Town Hall, and other locations. After a lot of leg work and signing up members, the group was officially chartered as Francis Marion Post 4667 of The Veterans of Foreign Wars of the United States in November of 1945. There are 74 names on the charter. There were a few more members that joined the first year after the list had been sent off and some names were unfortunately lost in the shuffle of papers. The first post commander was Troy Myers who had served in the Army during World War II. This group of men continued to meet at various locations, but they decided that in order to be successful they needed to put their roots down.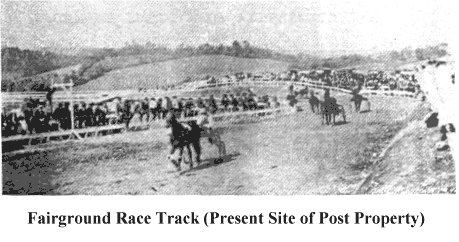 The organization had no money and very little way to make ends meet. What these men lacked in money they more than made up in heart and determination. on November 11, 1948, almost three years to the day from the date on the charter, this organization bought a piece of land. The land consisted of about three acres which was a cornfield sitting Out in the county in an area known as Fairground Hill. Some said the group had paid too much for the land, but they felt they needed something to work for and this was it. The deed was made by W.C. and Callie Hockett and signed by Ralph Conner, Herbert Luquer, and Stuart Stephen- son who were Trustees at that time. The purchase price was $2500.00 with $835.00 paid in cash and the Hocketts holding a deed of trust to be paid in three payments of $555.00 each year at 6% interest. The final payment was made on July 30, 1952. Now the land was free and clear. The post was now active with the purchase of the land but had been meeting at whatever place was avail- able. Here we go again.
All members were notified of a meeting to be held at the Municipal Building in Marion at 8:00 P.M. on October 1, 1952. The stated purpose of this meeting was to borrow money to construct a 11club house". A resolution was presented to the membership for the trustees to secure a loan from the Bank of Marion for $3000.00 and make a deed of trust. The motion passed unanimously. At this time the Commander was Kenneth Wilson, and the Quartermaster was Lee Fox.
The money that was borrowed was used to purchase materials only and post members and other volunteers furnished all the labor. It was decided that they would pour a concrete floor, take a two-bedroom house plan, and build a cinderblock building with no partitions. It was built this way in the event they were unable to repay the loan they could sell the building and still have part of the land left.
After the building was completed, the group became very active with Veterans Affairs and community service. The membership began to grow. The post members did anything they could to make a few dollars. They had shooting matches, raffles, circuses, carnivals, wrestling matches and dinners. They still had to borrow money for short periods to pay the bills of the post.
The post became incorporated on April 20, 1960 and the property deed was transferred to the corporation in May 1967.
In 1966 it was decided that the post needed to enlarge the building and remodel the old part. The post had accumulated some money over the past few years and on May 5, 1967, VFW Post 4667 borrowed $12,000.00 to finish construction of an addition and remodel the original building. The loan was paid off on December 5, 1969. Randall McGhee was Commander and Ralph Craven was Quartermaster when the project began, and Cecil Carter was Commander and Jim Parlier was Quartermaster when the loan was repaid.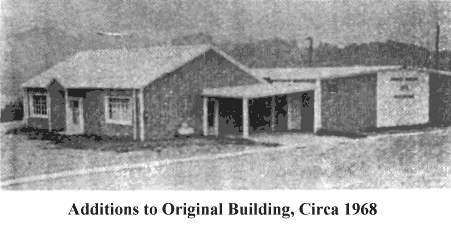 This is also the time that saw the beginning of one of the longest running community service projects. In 1968 a portion of the original land was leased to the Town of Marion for the construction of a playground and recreation department baseball field. This project continues today. Other improvements were made in 1989 to the building when the meeting space was extended and an office added. In 1993 the kitchen was enlarged and a new room was added to the building. A new heating and air-conditioning system was added to the building in 1991. The latest additions to the building were completed in 1994 with the new small meeting room and storage areas. This year has seen a new roof on the building and replacement of some exterior siding. As you can see, the cinderblock "club house" has certainly grown over these fifty years.

The VFW Post 4667 building has been used for almost everything including VFW meetings Ladies Auxiliary meetings, Chamber of Commerce meetings, Union meetings, wedding and baby showers, reunions, auctions, banquets, dances, bingo games, church services, Town Council and County Supervisor meetings, and Smyth County Circuit Court. About the only things the building has not been used for are a wedding and a funeral. The members even provided transportation to and from as well as babysitting service for voters on Election Day. Now the building is used as a polling place.

A number of men have served as Commander over the years, but the first to serve two consecutive terms was Kenneth Wilson. He served again ten years later for a total of three terms as Commander. Members who have served three consecutive terms as Commander include Cecil Carter, Roy Ernest, Noah Coleman, and Perry Bruce. Those serving two consecutive terms are Randall McGhee, E. M. Snider, John Null, and Roy Hayes. Marshall Guy served as Commander for three consecutive terms plus most of the last term of Roy Ernest after he became ill ... a total of 42 consecutive months. There have been a total of 35 different Commanders since 1945. Of those, 22 were veterans of World War II, including one Navy and one Marine. There was ten Korean era veterans that became Commanders with eight Army, one Air Force, and one Navy. There have been two Commanders who served in two wars - World War II and Korea. These were Kenneth Wilson and Perry Bruce.

VFW Post 4667 has provided seven Commanders for the Ninth District of Virginia including Kenneth Wilson, Ray Folden, Roy McNeil, Randall McGhee, Robert White, Mar-shall Guy, and Major Bowen. A member of the post has also served as the State Commander from 1992 to 1993 and this was Marshall Guy.

Membership has continued to grow since 1945. This year there are a total of 1,156 members in Post 4667. Of those, there are 393 Life Members.

The reason this organization has prospered over the last 50 years is because we have been blessed with very good post Commanders who do not quit working at the end of their term. There has also been outstanding and untiring work on the past of the post Quartermasters. The willingness of almost every member to take an active part in the programs and projects has led to the success of this organization. Please always keep this in mind - this is not MY post or HIS post, but it is OUR post, so let's all work to make the next 50 years as important as the past 50 years have been.